No matter how you look at it, car technology has come on leaps and bounds over the past decades. And, while some of these advances are immediately noticeable and appreciated, such as electric windows and smoother suspension systems, others, like glow plugs, are hidden under the bonnet and forgotten about unless something goes wrong. This shouldn't be the case. Glow plug technology has significantly improved, with BERU, for example, dramatically improving the time it takes to start your diesel car – especially on cold mornings.
So, let's appreciate the hidden and take a look at BERU glow plugs – what are they, the different types available and how they compare to the competition.
What is a glow plug?

To get started, we need to go back to basics: what is a glow plug? And, what does a glow plug do?
A glow plug is a heating element that heats incoming fuel and air to encourage efficient fuel combustion in a diesel engine. The fuel combustion starts your engine so that you can drive. Each cylinder of your engine has one glow plug, either in the pre-chamber (pre-chambered engines) or in the combustion chamber (direct-injection engines).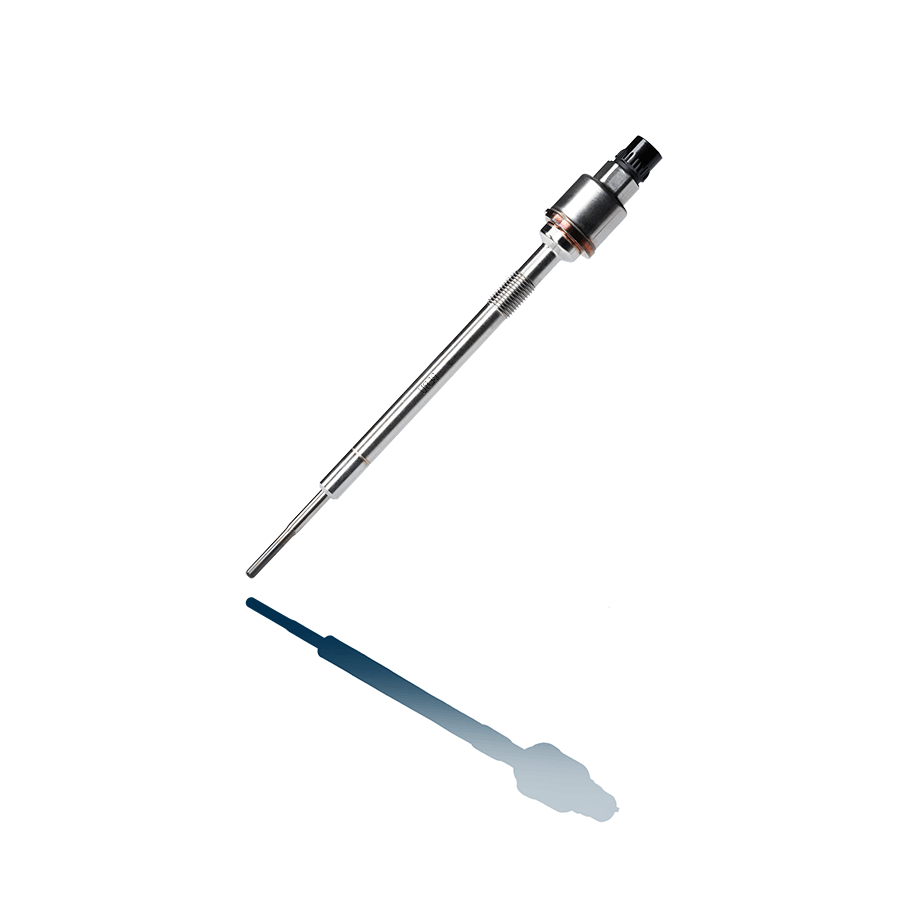 BERU glow plugs offer:
Three-phase technology – BERU glow plugs use three-phase technology to ensure optimal performance.


Phase 1: pre-heating when the ignition starts. BERU glow plugs are quickly heated up to 1300°C Celsius (for Ceramic Glow Plugs) and can maintain this temperature regardless of external conditions.
Phase 2: Heating during starting to ensure optimal combustion of your fuel.
Phase 3: Post-heating. BERU glow plugs continue to be heated for approximately 3 minutes after the engine has been started. This extended glow plug operating time helps to complete the combustion process and to decrease noise output as the combustion chambers heat up.

Reliable power start after start – Beru glow plugs are manufactured by BorgWarner, who also produces glow plugs that meet original equipment (OE) manufacturer standards, so you can be certain of high-quality parts that you can rely on. Beru glow plugs cover 95% of the glow plug market for diesel cars in Europe.
Glow plug systems
The starting process of an engine heavily influences the exhaust gas values of a vehicle. Together, glow plugs and their connected components (glow plug control modules, glow plug relays and glow plug combustion sensors) play an important role in reducing emissions helping to protect the environment.
Types of glow plugs
BERU offers a range of innovative glow plugs, each with specific features for a variety of applications.
Pressure Sensor Glow Plugs (PSG)
The sensor and electronics in the pin of the PSG optimise performance of the glow plug, significantly reducing particle emissions in order to meet and exceed current exhaust gas limit values. The innovative PSG works by measuring the pressure in the combustion chamber with its integrated sensor and reporting the results to the engine control electronics to determine the necessary heating pattern for the glow plug. Features of the PSG include:
Sensor principle: piezoresistive;
Flexible heating rod for pressure transmission;
Robust sealing element between body and heating rod;
Miniaturised electronics integrated in the upper part of the glow plug;
Calibrated and customer-specific programme;
Integrated concentric automotive plug;
Operating temperature: -40° to 140° C (max. 150°C)
Pressure range: 0-200 bar (max. 210 bar)
Ceramic Glow Plugs (CGP)
The extreme temperature CGP glow plug uses BERU's innovative and knowledge in order to be the first to market for important car brands. BERU's CGP delivers a maximum temperature of 1300°C in less than 3 seconds for more stability, optimal performance and improved fuel consumption.
High-tech Steel Glow Plugs
Beru high-tech steel glow plugs are an ideal fast, durable and green solution for two- and three-phase glow technologies. The main differences are:
Three-phase technology (Types GE & GN) – these glow plugs use three heating phases (pre-heating during ignition, heating during starting and post-heating for approximately 3 minutes after starting) to ensure diesel fuel is burnt more efficiently and quieter, so exhaust gas clouding is reduced by up to 40% during cold starting. They ensure reliable starts, time after time, even when the outside temperature is -30°C.
Two-phase technology (Type GV) – these glow plugs meet the pre-heating and heating performance requirements of older diesel engines. They deliver reliable cold starting, and a short pre-heating time of 5-7 seconds.
Commercial Vehicles Glow Plugs
BERU also offers a range of glow plugs designed to meet the specific needs of vans, trucks and other industrial applications. This includes:
Flame Start System (Type GF) delivers reliable, convenient and green cold-starting performance even at low temperatures. Available in two versions (12V and 24V), the Flame Start System has a short pre-heating time and a long post-flame time.
Glow plugs for auxiliary heaters (Type GH) for additional warmth and comfort even when it's icy cold outside. Different versions meet the needs of auxiliary heaters in both petrol and diesel vehicles.
Glow plugs with wire filaments as heater element (Type GD) for older diesel vehicles, including tractors, tow trucks and construction machines. These robust glow plugs use a wire filament as the heating element and are resistant to heavy vibrations.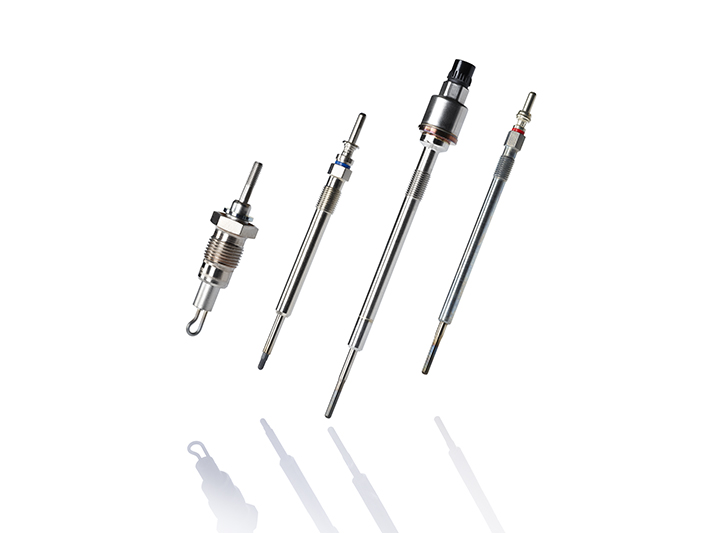 BERU and the competition
When you look for glow plugs, what's important for you?
Quality that you can still rely on thousands of cold starts later.
Cleaner emissions thanks to an optimal warm-up and operation.
Long service life delivers the same high performance regardless of the weather.
With BERU, there's no need to compromise. Our range of glow plugs are a quality solution that you can rely on, day after day, regardless of the weather.
To show just one example, as you can see in the X-Ray, the filaments in BERU glow plugs are welded, not woven. This increases their performance consistency and reduces deformation during the lifecycle. The results speak for themselves – just look at the last X-Ray images.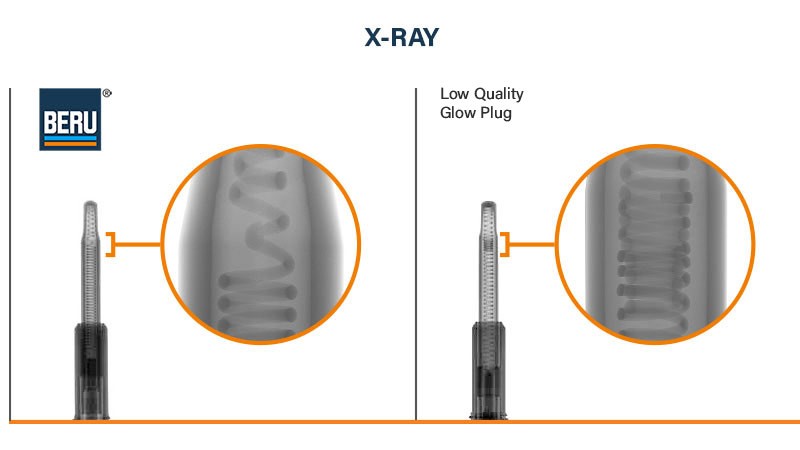 BERU filaments are welded instead of being woven, so the glow plugs perform more consistently.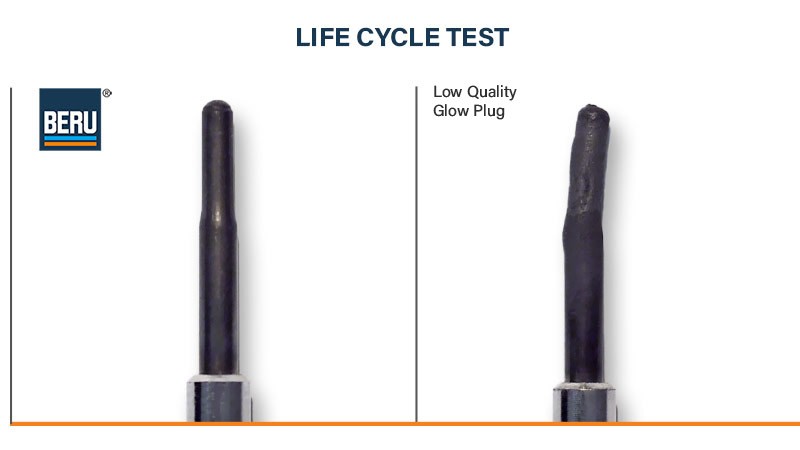 Minimum deformation during the life cycle, thanks to choosing high-quality materials.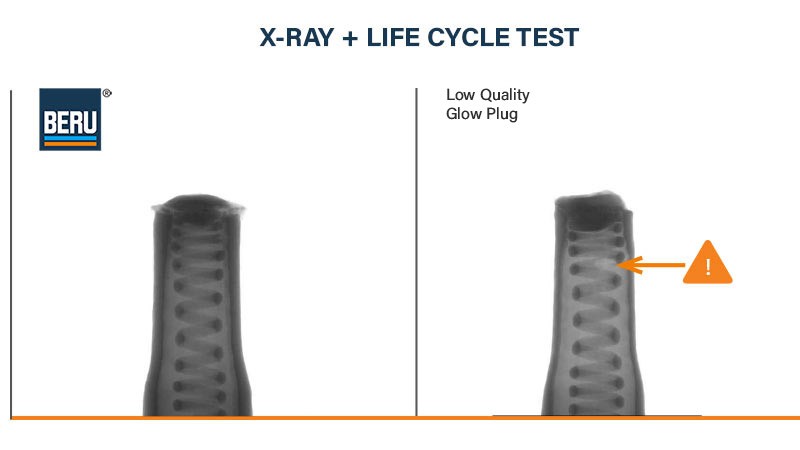 The thread spiral doesn´t break, and passes the life cycle test with ease.
* tests performed by Federal-Mogul Motorparts/BorgWarner
TECHNICAL CHARACTERISTICS OF BERU GLOW PLUGS
Precise dimensions (iSO standard) for optimal combustion
Environmentally-friendly quick start in 2-5 seconds (or even quicker in conjunction with the Instant Start System ISS)
Up to 40% less carbon-particulate emissions in the warm-up phase for post-heating glow plugs
Reliable starts up to -30°C
Vibration-resistant and protected against shorting by the ceramic sheathing of the filaments
Tested and used in diesel engines of all major car brands
Developed in collaboration with OEMs
ADVANTAGES OF BERU GLOW PLUGS
Promised reliability throughout the glow plug's service life
Up to 100% faster warm-up time
Precise operation regardless of the outside temperature
Maximum temperature always within tolerances, resulting in longer service life
Significantly less warping, crumbling or corrosion thanks to quality materials
Less knocking during a cold start, extending the engine's service life
Steady engine start-up that is gentle on the engine
Your car deserves BERU
Your glow plugs work hard under extreme temperatures to start your engine, regardless of the weather, that's why your car deserves the best.
 Discover BERU's full range of glow plugs.
Want to find out more about the BERU glow plugs? Read our brochure: 
The content contained in this article is for entertainment and informational purposes only and should not be used in lieu of seeking professional advice from a certified technician or mechanic. We encourage you to consult with a certified technician or mechanic if you have specific questions or concerns relating to any of the topics covered herein. Under no circumstances will we be liable for any loss or damage caused by your reliance on any content.